Experience the Magic of Christmas
An amusement park for all seasons
Welcome to The North Pole-Santa's Workshop, an enchanting vintage amusement park nestled at the foot of Pikes Peak in Colorado Springs, Colorado. Home to Santa's Village and the jolly man himself –  the spirit of Christmas lives on all year long here at The North Pole.
Opening day: May 22, 2022
Closed: Tuesday and Wednesday
Entrance into the park is free during the Summer and Fall months!
Purchase ride wristbands at our gate. Last wristband sold at 4:15pm all rides close at 4:50pm
Unlimited Ride Wristband $30- some rides may be closed due to planned maintenance, weather or staffing
A true mountain village for Santa's Workshop
Kris Kringle couldn't have picked a better spot to set up shop. At 7,500 feet above sea level—The North Pole sits at the foot of Pikes Peak and offers crisp mountain air and panoramic views of Colorado Springs and the Pikes Peak Region. Since we are a true "mountain park," we encourage you to wear comfortable shoes for the most magical time here at Santa's Workshop.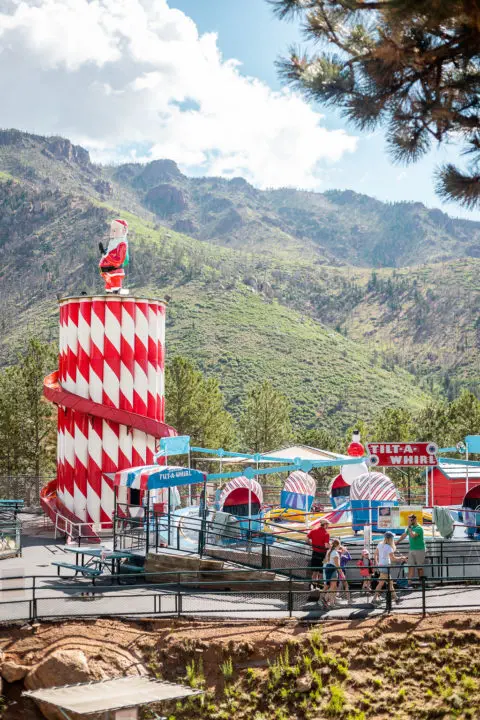 Santa and his elves are doing everything they can to keep the park safe for our visitors. The following precautions are currently in place at our park and taken directly from the Colorado State Health Department Executive Order:
Fully vaccinated visitors can go without masks in public- indoors and outdoors.
Unvaccinated people over age 11 are encouraged to continue wearing masks in all public indoor spaces.
People who do not have to wear a mask, even if unvaccinated, include:
People who are 10 years old and younger.
People who cannot medically tolerate a face covering.
Children younger than 2 years old should NOT wear masks.
Throughout this pandemic, we have consistently followed recommendations from the Colorado State Health Department and we will continue to do so. If these requirements change, we will also reevaluate our policy.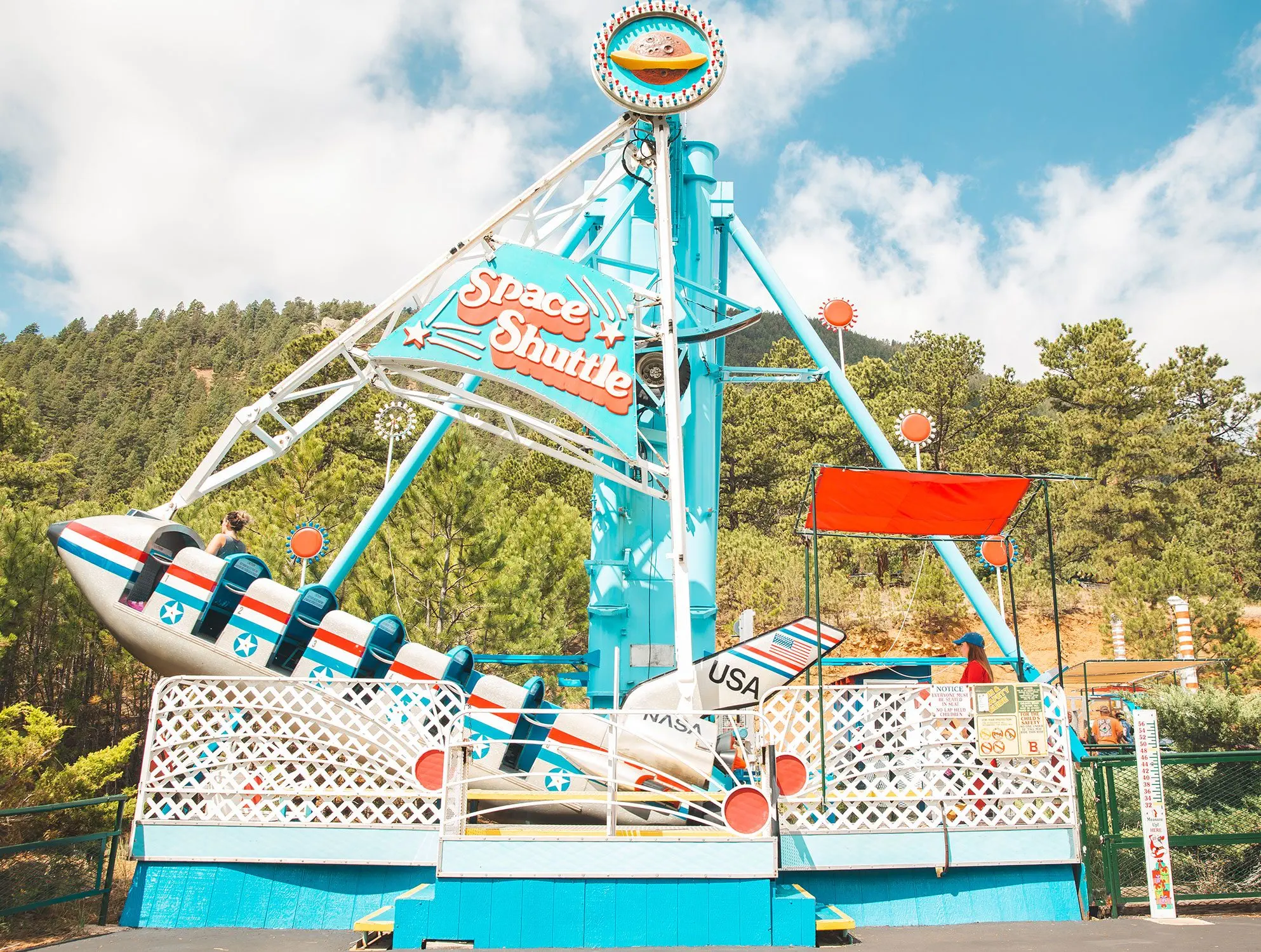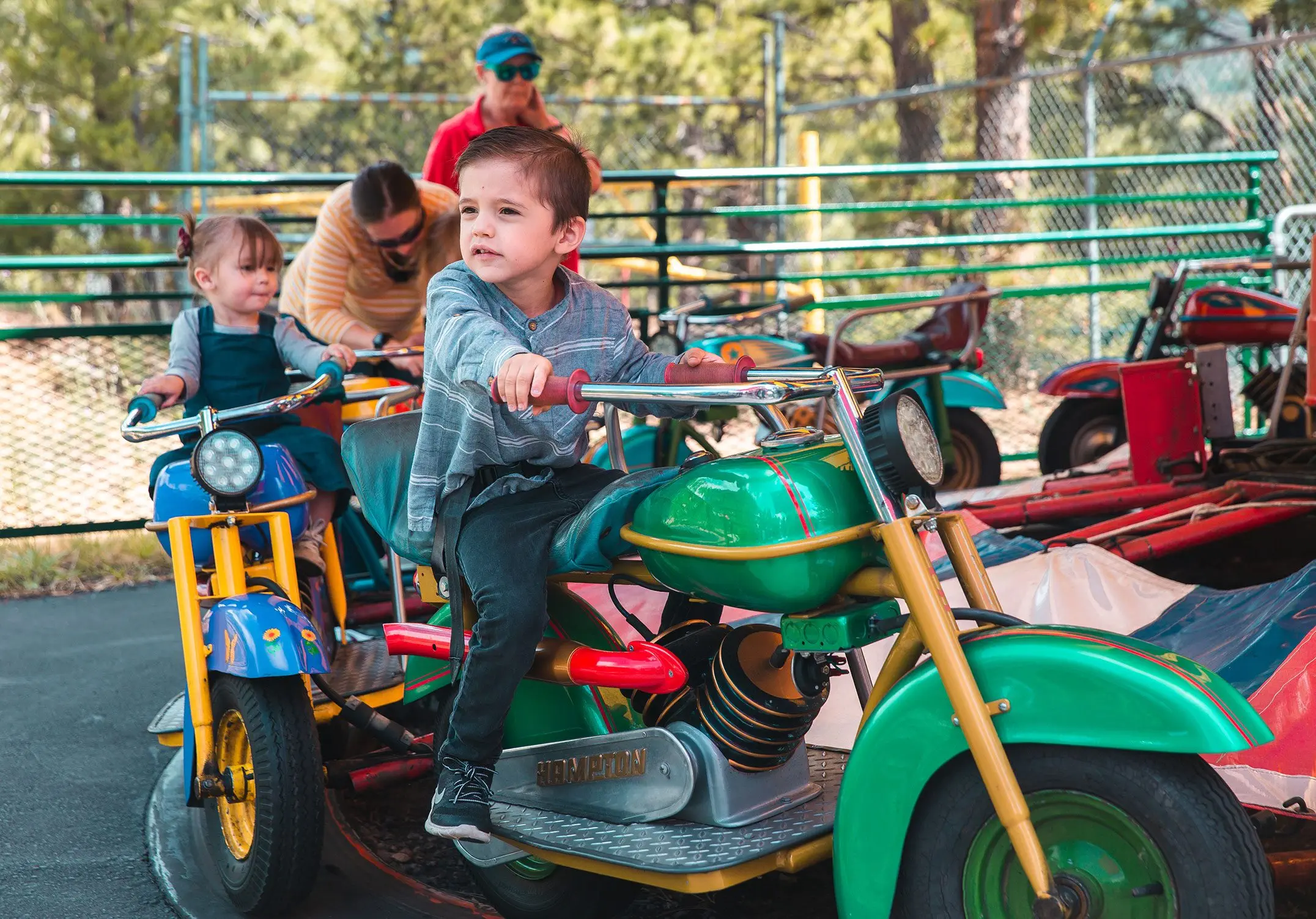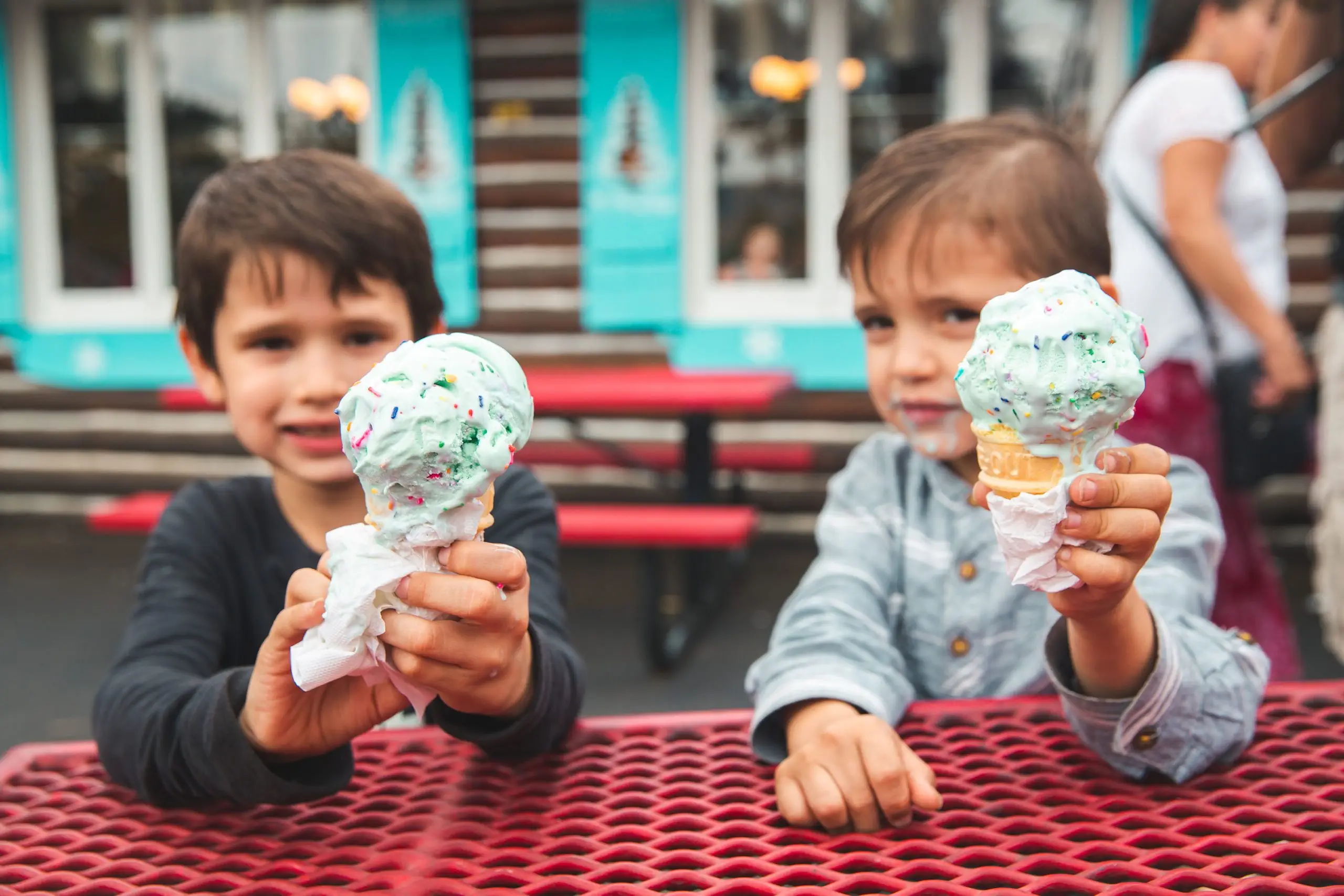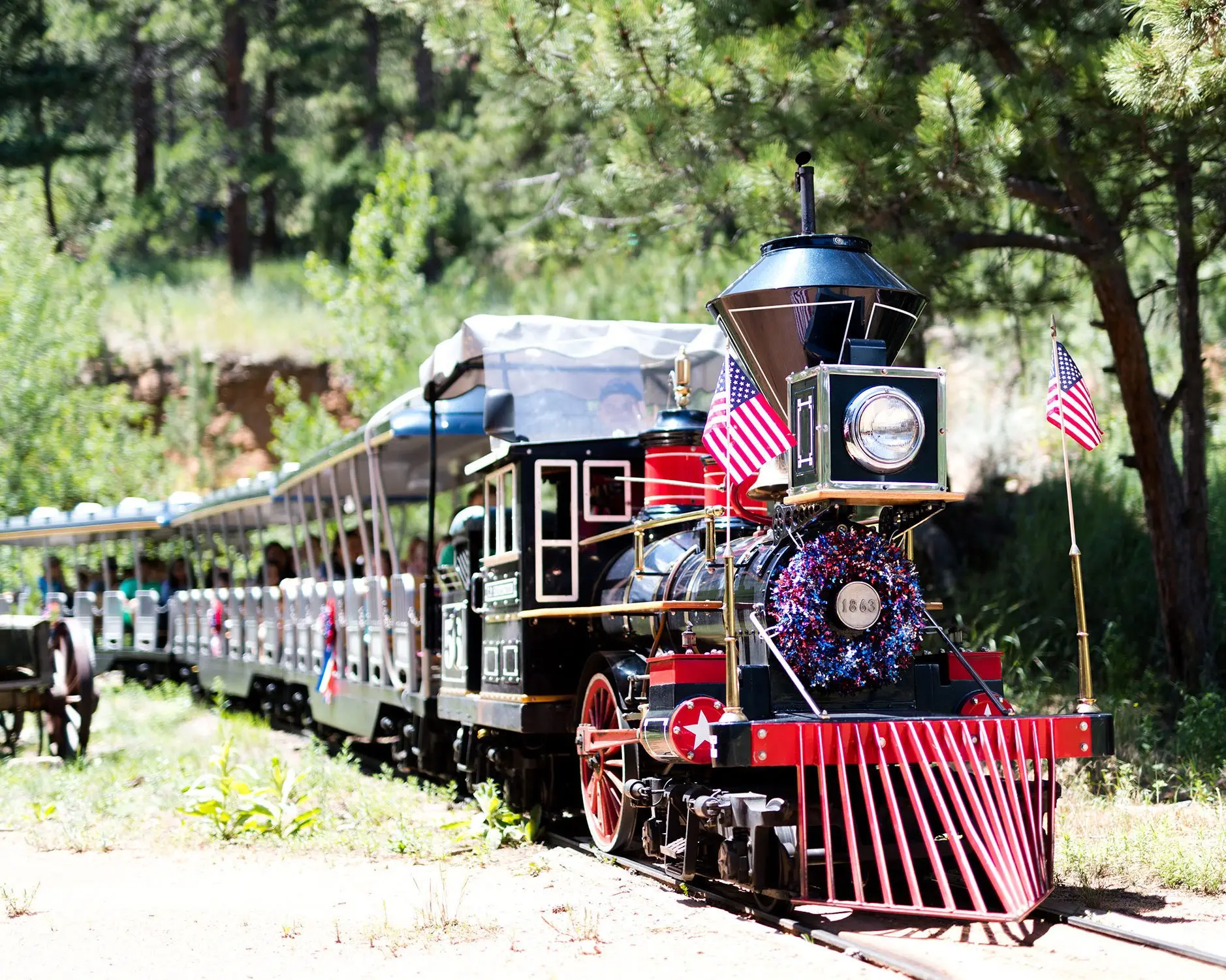 With so many rides here at The North Pole, the park is chock full of fun for everyone in your group! Our vintage rides have been restored to their full glory and are maintained yearly for good old fashioned, safe merriment.
There's so much more to explore
In addition to our rides and attractions, there's still so much to explore inside Santa's Village. Take in a show with Elmer the Elf, or watch our glass blower create beautiful custom ornaments before your eyes. There's so much magic here at The North Pole you can plan a full day of family fun.
Busy preparing for Christmas all year long, Santa loves taking a break to visit with the young and young at heart. Share your biggest wish and get your picture taken with the jolly man. Santa's helpers will help you choose the perfect photo package to cherish for years to come.
Keep your littlest elves fueled for a day of fun with corn dogs, chicken nuggets, burgers and more at the Carousel Cafe. Or choose from our sweet treats: ice cream, hot chocolate, cider and our famous funnel cakes.
With seven unique shops to browse, we have something for everyone on Santa's good list! We offer a wide range of toys, gifts, souvenirs, and Christmas items. We even have our own on-site glass blower for a one-of-a-kind hand-crafted gift.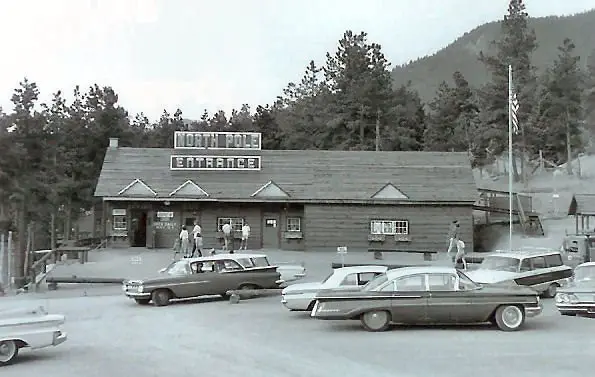 Spreading Christmas cheer since 1956.
In 1955, 25 acres of land on the South slope of Pikes Peak was dedicated to Santa's Workshop. Designed by former Walt Disney artist, Arto Monaco, the village was constructed of 12 alpine buildings including a home for Mr. and Mrs. Claus, three workshops, a blacksmith shop, gate house, reindeer barn, souvenir shop, show house, and Mother Hubbard's Cupboard.
The North Pole has expanded since then, but the pure joy of the Christmas spirit has remained intact for 65 years.
With so much to see and do here at The North Pole, it's best to plan ahead in order to make the most of your magical time at our park.
Our Summer and Holiday dates and hours differ, so make sure to check out our Plan Your Day page to make the most of your visit.
Please make sure to dress in layers and come prepared for any type of weather. We often have rain showers in the summer and snow in the fall.
Over the Summer 2022, entry into The North Pole will be free! This includes access into Santa's Village to walk around and browse our shops or grab a bite to eat. During the Summer and Fall, please purchase wristbands at our gate. Ride wristband cost is $30
Beginning November 1st, 2022 advance reservations and general admission to the park will be required. Online reservations will be available one week in advance to avoid weather cancellations. Reservations are not available yet.
Unfortunately, Rudolph's nose interferes with the signal so wifi is not available in the park  
Tickets are not available online during the Fall and Summer. Please purchase your tickets the day of your visit at our gate. Reservations are required during the holiday months (November and December) and can be purchased one week in advance. More detailed information will be available in October when we will begin releasing our reservations on a weekly schedule.
Over the summer park entry is free. Rides require a wristband purchase.
 2 & under are free but do need an accompanying adult with wristband to ride.  
Once we get to the holiday season – November 1 – we change to a general admission per person for everyone age 3+. Online reservations will be required.